💗In flat head syndrome, a flat spot develops on the back or side of a baby's head that looks like an asymmetrical head. The most common cause is regularly sleeping or lying in the same position. The sleeping position of a baby should be changed. The rounded side of the head should touch the mattress and the flattened should be facing up. BAMMAX special types of pillows can helps to relieve pressure on the head and neck muscles. More and more parents recommend this special pillow.
😍Why choose our memory foam baby flat head pillows:
Practical Newborn Pillow:

 

Ideal to prevent and avoid flat head syndrome;
Premium Memory Foam Pillow:

 

High quality material specially designed for newborns by its ergonomic shape, keep your baby's spine in the correct alignment;

Ergonomic Baby Sleeping Pillow:

 

Excellent pressure distribution and body adaptation: memory foam makes sure there is not too much pressure on the baby's head;
Removable & Washable Pillowcase:

 

Baby

 

head shaping pillow comes with a removable cotton pillow case, which can be washed by hands or washing machine.

 

NOTE: DON'T WASH THE MEMORY FOAM CORE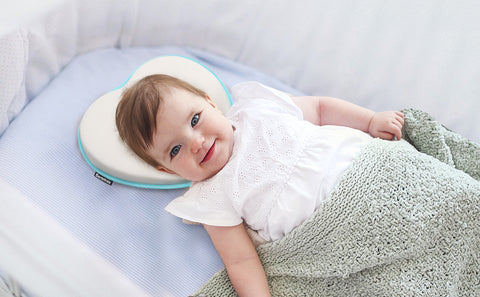 Suitable for Infant under 12months:

 

It can be used from birth. Thanks to its design allow for proper growth of the baby's skull;

Perfect for On-the-go Parents:

 

Infant sleeping pillow is very convenient for on-the-go parents as it can be used as an insert for bassinets, infant car seats, strollers, and more
Shower Gift for Newborn:

 

Heart-shape pillow is an ideal choice as a birthday gift, Christmas present, or shower gift to develop perfect head shape.
😍How to Choose Best Pillow for Our Lovely Baby?
Choose the right baby pillow that has a size equivalent to the size of the head of your child

Materials must be of better quality. Always prefer cotton materials and organic material which help in providing a comfortable sleep for your child

Cleaning of the pillow should not be a cumbersome process. Make sure the pillows that you are buying have an easy procedure for cleaning

Comfort is the prime thing before buying a pillow. A pillow that fails to provide comfort for your child should not be preferred
👶Memory Foam Newborn Pillow
Baby sleeping pillow is made from premium memory foam, breathable and soft. It is more suitable for baby's sensitive skin.
👶Special Pillow for Flat Head Syndrome
Compared with other types of pillow, heart-shaped pillow is more suitable for newborn baby. Newborn pillow better supports for children's neck to avoid the baby falling off pillow when sleeping.
👶Improve Sleeeping Quality
Baby always have a poor sleeping quality when lying on a uncomfortable pillow. The super soft and comfortable pillow provides better support to improve your baby's sleeping quality.
👶Perfect For On-the-go Parents
The baby pillow weights 0.29lb, lightweight and portable. It can provide a comfortable atmosphere to make babies sleep well.
👶Removable Pillow Case
Our head shaping pillow comes with removable cotton pillow case, which can be washed by hands or washing machine. NOTE: Don't wash the memory foam core.
👶Shower Gift
BAMMAX baby pillow provides a great deal of comfort while still giving the essential support to keep your infant's head in proper alignment. A good shower gift for newborn baby
USA LOCAL SHIPPING
| | | |
| --- | --- | --- |
| Method | Shipping Time | Cost |
| Standard |  7-10 business days | Free |
| Expedited | 4-7 business days | $9.99 |

BAMMAX reserves the right of final interpretation.
If customers have any questions about their location, please contact us online in time. We will answer you as soon as possible.
Thanks for understanding.